How to transfer a domain from Go Daddy
When a domain is transferred, the name servers associated with the domain will stay the same (e.g., ns1.OldRegistrar.com and ns2.OldRegistrar.com). However, since the domain is no longer with the old registrar, the old registrar's nameservers will stop responding to queries for your domain. This will cause downtime until you switch your domain to our DNS.
Learn how to reduce downtime during transfers in this article.
NOTE: If you are using a third-party DNS such as your hosting company, the domain transfer will not cause any downtime issues, because DNS server settings will not change during the transfer.
Before placing a transfer request with us, you'll need to obtain an Auth Code (if applicable) from GoDaddy and you will need to make sure that the domain is unlocked.
1. How to unlock your domain with GoDaddy:
Login to your GoDaddy account;
Next to Domains, click Manage All:
Important: Enable the Advanced List View type:

This is not the default option, so please make sure to choose it before you proceed.

Select the domain(s) to unlock and click Lock:



Select the Off radio button, then click Save: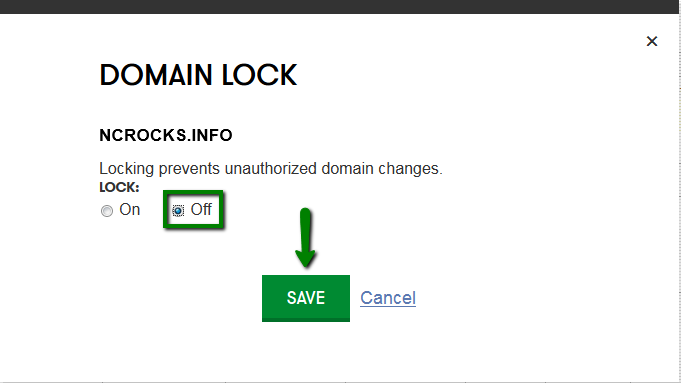 Important: There's a 60-day lock feature that prevents transfers out of GoDaddy any time updates to the First and Last name, Organization name or Email address fields are made for the Registrant contact info set. Updates to any other piece of contact information should not trigger this feature. See this article (https://www.godaddy.com/help/change-domain-contact-information-418) for more details on updating contact information for domains at GoDaddy.
For cases where the 60-day lock has been placed on a domain name, GoDaddy provides a special process to remove this lock. Contact Go Daddy's "Review 60" department at [email protected]ver.net to have them review the case and remove the lock, if possible.
2. How to obtain Auth Code (or "EPP Code") from Go Daddy:
Login to your GoDaddy account;
Next to Domains, click on Manage;
Select the domain for which you need an Auth Code:

Scroll down to Additional Settings and click on Get authorization code


The Auth code will be sent to the Admin email address of your domain.
3. If Whois Privacy Protection service for the domain is enabled, you will also need to disable it. According to Go Daddy policy, the domains cannot be transferred out if their privacy protection service is enabled. Any transfer requests submitted while Domains By Proxy is active will be declined by Go Daddy.
NOTE: Private Registration cancellations are irreversible. This means that once canceled, it can't be enabled back and, if you decide to stay with Go Daddy, the private registration needs to be purchased again.
How to cancel Domains By Proxy Service with Go Daddy:
Login to your Go Daddy account;
Next to Domains, click Manage;
Click Manage under the Privacy column next to the relevant domain name:
Click the Remove Privacy link, then select Yes, Remove Privacy:
Once the domain name is unlocked and you have received your Auth Code, you may initiate the transfer to QIWHOST. Please refer to this article for more information on how to transfer a domain to us.
4. How to accept transfers at GoDaddy:
Once the transfer request has been placed and the process has been initiated at the registry level (usually takes up to 20 minutes), you should be able to accept the transfer on GoDaddy's side to speed up the process:
Log in to your Account Manager;
Next to Domains, click Manage;
From the Domains menu, select Transfers;
Click on Pending Transfers Out and select the domain name(s) you are transferring out of GoDaddy;
Select Accept and click OK. The request will be processed within 15 minutes.
That's it!
Comments
We welcome your comments, questions, corrections and additional information relating to this article. Your comments may take some time to appear. Please be aware that off-topic comments will be deleted.
If you need specific help with your account, feel free to contact our Support Team. Thank you.
Summary
Reviewer
Review Date
Reviewed Item
How to transfer a domain from Go Daddy
Author Rating